The re-development of Alexandria's historic city center along Gamal Abdel Nasser Avenue, Salah Salem Street and Kom el Dikka district.
1. Philosophy and Methodology: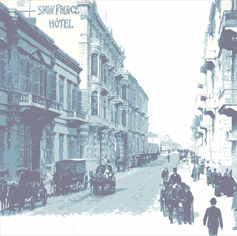 The project is in progress and approaches the issues of conservation and re-habilitation taking action against degradation and depletion of the city center. The aim is to transform societies and consumption and exchange patterns, promote entrepreneurship, economic sustainability, social welfare, cultural issues and environmental concerns. The project proposes the redevelopment of the city center along the historic spine or heritage corridor, re-emphasizing the notions of connectivity and opening towards significant landmarks. It uses renovated street facades to provide an authentic morphological reinterpretation and guide of the city's historic riches. The street therefore acts as a theatrical setting, targeting social, economic and spatial development. The project is flexible and open-ended, meaning it does not adhere to a specific time framework, allowing therefore freedom of action on parts or the whole of the project. The future strategy rests on the mobilization of resources for the diverse stages of development, and on organizing society in the form of NGOs to participate in, follow up, monitor, evaluate and correct phases in the project's progress, along with public and private entities. The project's sustainability remains an open-ended phase of development, considering continued changes in the socio-economic, political and cultural conditions over time, and the need for maintenance and repair of the already developed stages. The special free-learning programs in research and educational institutions, aiming at developing professionals' and students' skills, are expected to be expanded to include a wider framework of interest groups in the fields of legal, economic, cultural, social and urban development. Increasing public awareness, and sensitivity to issues of conservation, mean a greater involvement of publicity and media. The duration of the initial phases is three years and the budget is five million euros.
The project acknowledges the importance of balancing the two poles of preservation and development as a dual yet integrated approach. The duality of upscale high style is manifested in the macro-economics of the high-end of the project (represented in Gamal Abdel Nasser Street) as opposed to the micro-economics of the adjacent and more modest local vernacular district of Kom el Dikka are two dual experiences along which the socio-economic and environmental model is developed. Effective integration occurs when the movement and activities along the spine of Gamal Abdel Nasser Street, where culture, entertainment and business are at the high end, impact on the nearby local district of Kom el Dikka.Inhabitants of and visitors to both districts can exchange visits and share experiences of both environments. Visitors and tourists visiting museums, cultural centers, archeological sites, restaurants and entertainment facilities around Gamal Abdel Nasser Street will also be exposed to the experiences of local cafes, restaurants, musical performances around Sayed Darwish's museum house and the surrounding local flavor around the piazza at Kom el Dikka. Therefore, integration and interdependency are achieved and the quality of life is enriched.
The current framework of governance responsible for development in the city has had repeated failures and therefore a new model is required. The project features participants and networks within an innovative synergy model of partnership and complementariness. The proposed model empowers education, business and society (EBS) to initiate research and implement projects. Innovation occurs in focusing on organizational framework and effective networking within the model. This does not mean excluding the role of government agencies. Education for sustainable development entails educators and students to act together with professionals, developers, stakeholders, financial institutions, government agencies, and society at large to promote development. The success of such collaboration is conditional to creating an environment or spirit of coherence, compatibility and acknowledgment of inter-dependency. The transfer of new ideas and learning for sustainable development entails a focus on new technologies and techniques (in roof-garden farming, disposal and recycling of waste, energy preservation). Counselling for women and youth, promoting the arts and creating opportunities for investment and employment have direct and indirect consequences affecting the livelihood and welfare of society.
Transferring knowledge to practice requires working within an integrated system where researchers, educators, students, developers and stakeholders work closer to society and are present on site. This means the encouragement of studios, workshops and labs in situ and the engagement of local communities in order to transfer knowledge and know-how to society while discovering potential and hidden talents. Therefore the process of learning and transfer of knowledge is a two-way process with a focus on youth, women and the unemployed.
The project was adopted by research, educational, cultural and governmental institutions, namely Alexandria University, the Bibliotheca Alexandrina, the Governorate of Alexandria and the Egyptian Ministry of Culture, the World Bank and the European Commission, as well as organizations of the civil society. For websites please check Supporting material.
Concrete results and impacts in renovation, re-use and upgrading of the city center are incremental interventions on the urban and built environments such as: renovations concerning bank premises (National and Central banks, Maritime Bank); cinemas and theatres (Amir, Rio and Royal cinemas, Teatro Iskindireya); restaurants (Sigma Development); renovations and upgrading undertaken by the Ministry of Culture (Creativity Center, the Opera House and the Graeco-Roman and National museums); civil society (Rotary and Lions) renovations in urban signage and street furniture. Also the creation of an NGO representing owners and tenants of Salah Salem Street.
Sigma and Nofa Egypt Developers, with the Department of Architecture, Alexandria University, conducted workshops, competitions and exhibitions to promote innovation and creativity in the rehabilitation of historic buildings in Gamal Abdel Nasser Street to become a complex of restaurants. Another model is Teatro Iskindereya, which also renovated an old building and turned it into a cultural center. Both complexes transformed the street, providing entertainment and culture to youth from all classes. The two initiatives have affected society by offering cultural activities and improving food consumption patterns, thus contributing to a better standard of living and to the sustainability of the street, and creating employment opportunities.
2. Project phases – Web links and references;
Alexandria city center development.
Reference : Bibliothèque virtuelle Euromed Heritage IV - Patrimoines partagés en Méditerranée, éléments clés de la réhabilitation - Euromed Heritage IV

Adaption of Alexandria's project of conservation and rehabilitation of Alexandria's city center by Alex Med of the Bibliotheca Alexandrina in Med-Cities a World Bank management project for the Italian Trust Fund published by Alex-Med in 2005.
Reference : http://www.bibalex.org/alexmed/projects/Details.aspx?ID=eef77530-e189-4ba7-86d0-41612320a513
Adaption of Alexandria's protection list by Prime Ministers conservation decree no.278 in 2008 published official; news – paper no.5-31 Jan 2008
Formation of Heritage Management Unit of committee head by Dr. Awad, Governor's decree no.142 year 2009.
Conservation and rehabilitation of Kom el Dikka district Alex-Med and other parties sponsored by European Commission in Cairo, Egypt A new vision towards the future (Kom el Dikka, Alexandria) Initial Survey Report and Preliminary project 2015.
Reference: http://www.bibalex.org/alexmed/Projects/Details.aspx?ID=bc17b066-000f-4a79-9cf2-509bc9f99ccb
Alexandria Development Projects - Alexandria, Egypt. Identification sheets of 11 projects including the conservation and rehabilitation of Alexandria's city center (Gamal Abdel Nasser – Salah Salem and Kom el Dikka district) identification sheets and preliminary studies prepared by Alex-Med in collaboration with the departments of Architecture of Alexandria University, Pharos University, The Beaux Arts, Academy of Science and Technology, sponsored by Egyptian Government Fund and management by Agence Française de Développement (AFD) Cairo branch.
Reference: "Two laboratories for the rebirth of the center of Alexandria http://www.afd.fr/lang/en/home/pays/mediterranee-et-moyen-orient/geo/afd-egypte?actuCtnId=97939 http://intaaivn.org/images/cc/Transmed/Background%20Documents/00_Alex_Low_Def_FV_Brochure_AFD.pdf http://www.bibalex.org/alexmed/Projects/Details.aspx?ID=d08734d5-1b44-46f1-b759-039721d11503
Student competition projects of the Department of Architecture Faculty of Engineering Alexandria University under the supervision of Dr. Dina Sameh and Dr. Ziad El Sayad sponsored by private developers SEGMA group and NOFA Egypt 2014 (Revival of Foad Street) student's competition. Reference : https://www.facebook.com/events/1603651309922259/
Gamal Abdel Nasser Avenue ( Fouad street ) 2015 summer workshop - Department of Architecture Faculty of Engineering Alexandria University
Reference: https://www.facebook.com/groups/1468050860110868/
Student Summer Training ( Virtual Reality CAVE ) by the Department of Architecture Faculty of Engineering Alexandria University
Reference : https://www.facebook.com/vrcavefoe/
Private Initiatives initiated in an incremental form varied in the context of renovations, reuse and upgrading of the urban and built environments.

Bank premises (National Bank of Egypt – Central Bank - Maritime Bank.
Cinemas (Amir, Rio and Royal )
Theaters and cultural centers (creativity center, Sayed Darwish Opera House by the Ministry of Culture )
The National Museum and the Greco-Roman museum by the Ministry of Culture.
Renovations of food and beverage shops and restaurants (eg. SEGMA's)
Teatro Iskindereya (a local youth center) for the promotor of theatre, arts and crafts.

Signage of agreement between governorate of Alexandria and Ministry of Antiquities of the plot land of the former governorate on Gamal Abdel Nasser Avenue for the extension of the Greco-Roman museum, promotion of the agreement by Dr. Awad's personal intervention and those of the Archeological Society of Alexandria 2015 .
Reference : http://www.awad-associates.com
3. Project Brief
click here to download project brief in PDF format ...
4. Photo Documentation
5. Publications